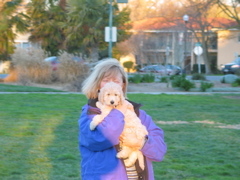 Our Passion
Heartsong Labradoodles is located on 40 beautiful acres in Waddy, Kentucky. We are surrounded by quiet farmland with lots of woods, fields, and streams. This allows us plenty of space in which to exercise all dogs daily, an important ingredient for a happy, well-behaved companion.
I earn my living as a psychotherapist. Dogs have been my PASSION all of my life. Years ago I decided to combine my passion with my profession. I certified both of my beautiful Labradors as Therapy Dogs and started taking them to nursing homes and children's hospitals. When Bella suffered a leg injury and had to have surgery, I took her to my practice daily. With no idea of how she might navigate a whole day at my office, how she would feel not being the center of attention (like she usually is when wearing her therapist's cap), I took her daily with me. She interacted with clients and seemed to just know when to settle. I took her to a group for adult survivors of childhood trauma and she became the co-therapist. Initially she would go around the group and greet each person before settling in her spot which became the center of the group. Bella knew she was doing something important (as does Nyala) and I enjoy watching their confidence and sense of importance develop. I believe people always gain from their interactions with animals.
We decided to breed Labradoodles because they are known to be highly intelligent, fun loving dogs with great temperaments. They are very much like Labradors, only they are low to non-shedding and very allergy and asthma friendly. A well-bred Labradoodle has a very athletic build and is known for its healthy hybrid vigor. We think they make the perfect family companion or assistant dog.
We are dedicated to maintaining the health, temperament, and beauty of this amazing dog. We are also dedicated to promoting the importance of the animal human connection. We promote education on how to have a well-behaved companion that you may enjoy for many years. We think it is important to buy from a reputable breeder, but it is equally important for you to do your part spending quality time training your puppy.
Our commitment to this wonderful dog is embodied in our statement of Ethical Guidelines.