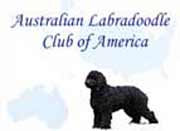 Our Ethics
I have wanted to breed dogs for many years, but have been hesitant to do so because of the genetic health problems associated with many breeds. I believe that most breeders who love their dogs start out with the best of intentions, but somehow it seems the breed starts to suffer with predictable health problems. We hope to prevent this from happening to the Australian Labradoodle.
It has been said that the advantage of buying a pure bred dog is that you know what you are purchasing. Traditionally this has meant that you may predict prior to birth the physical appearance of a litter. One theory asserts that the emergence of genetic health issues in pure-bred dogs has to do with in-breeding for the purpose of predictable appearance. We believe that a breeder may get consistency in a line (maybe not duplicate pups) without a high co-efficient of in breeding. With the Australian Labradoodle being a new breed there has been a natural occurrence of new lines. The breeders who are moving this breed in the direction of breed recognition, Heartsong included, are in an exciting position of being able to make profound choices and learn from the mistakes of others. We support the ongoing development of new lines in order for this breed to have great diversity in lines for optimal health in the future. We want the Australian Labradoodle to maintain its healthy origins.
We believe the goal of predictability and conformance to an arbitary and highly constrained breed standard based solely on achieving "the look" encourages breeding practices that ultimately lead to the degeneration of the health and temperament of the breed. The key question for Australian Labradoodle breeders, we think, is how to proceed and not compromise the health and temperament of this breed. We do believe that there can be enough genetic diversity to predict a consistent litter if breeders work together to accomplish this mission. We are currently involved in Australian Labradoodle Club of America with a group of breeders who are very passionate about this breed and desire to work toward this goal. We support the breed standard that has been revised by Angela Cunningham of Tegan Park and Beverly of Rutlan Manor. This standard is broad enough to encourage new lines with acceptable variations and honor the tradition of the breed.
We believe standards that support health are of primary importance. For instance, the athletic body of the Australian Labradoodle may be maintained by breeding healthy dogs within a frame that is designed for performance and not the "in appearance" of the season. A breeder may focus their line around this athletic frame without in-breeding.
Heartsong is dedicated to continuing this process as our program develops. When purchasing breeding dogs we carefully inspect pedigrees and plan litters for health and temperament. We have imported some of the finest lines from Australia. We are working with breeders in Australia, United States and Canada who are, foremost, concerned with the health and temperament of this exceptional dog which we have fallen in love with. Furthermore, many breeders are creating new lines which will assure the continuation of these traits.
Our Pledge
We test our lines for genetic problems and only buy from lines proven to be clear of genetic problems. Even the best line will have an occasional genetic problem. However, a pattern of a problem is not normal and we will/have discontinue lines that show problems.
We take our responsibility for these creatures seriously. We are bringing into the World and we are committed to their ongoing care. All of our breeding dogs live in our home, are fed very well, exercised daily, socialized well and are treated like the family members they are.
We do not want any of our dogs to end up in a shelter. We will take back into our care any dog bred by us for any reason. If the reason is non urgent, we will assist in the process of finding a new home for the dog. This will save the dog owner the cost of shipping a dog back to us and the dog the emotional upset of two home changes. If it is an emergency, the new family may ship the dog back to us and we will find a new home for the dog. We microchip all puppies prior to their leaving Heartsong Labradoodles in order to help find lost or stolen pets and to ensure that if they ever end up in a shelter we will be contacted.
Finally we want prospective adoptive families to understand that the Australian Labradoodle is bred to be a family companion. The breed thrives on companionship (being a part of family activities). They settle very well in the house with appropriate training and stimulation. This dog should never be chained for long periods of time. My dogs are all bred to be house dogs. They are perfectly capable of entertaining themselves for periods of time, can be independent, but they desire to be a part of the family. My dogs frequently lay around my feet as I work at my computer. They are excellent with other dogs and with children- all interactions with children should be monitored with any dog to ensure both know how to play together safely.
References