Sunset Hills Irish Rose At Heartsong ~ "Rosebud"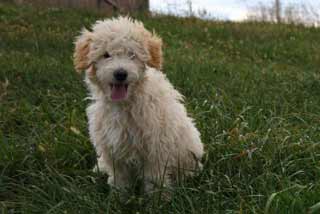 Sunset Hills Irish Rose at Heartsong

Sex
Female
Breed
Australian Labradoodle
Variety
A3
Date of Birth
July 11, 2005
Breeder
Melinda Radus
Owner
Bonnie Patrick
Rosebud, Alias Snowball and Sweetie Pie, is our precious girl from our Silk's sister. We love this line. We are so impressed with their temperament and fabulous good looks. Rosebud is following her Auntie's foot steps in both departments. She is very intelligent, affectionate, confident and playful. She is very easy to train. At the same time she seems to have a deeper understanding about things. Her dad is the good looking Tegan Park Smooch who has maintained his great fleece coat. Rosebud has a beautiful ultra blonde/cream coat with gold highlights, is a true fleece and very silky. She is 17 inches tall (from shoulder) and weighs 24 pounds. She will be completing her health testing during the summer of 2006 and have her first mating in the fall 2006.
Pedigree
Parents
Grandparents
Great Grandparents

Tegan Park Mandrake

Tegan Park Irish Night
Willow Grove Curly
Tegan Park Irish Sunset
Tegan Park Maralyn
Tegan Park South Wind
Tegan Park Magdella

Sunset Hills Copper River

Tegan Park Bright Spark
Tegan Park Rustic In Red
Tegan Park Flickering Fire
Rutlands Chalani
Tegan Park Shannon aka Shannon
Rutlands Stella